About Us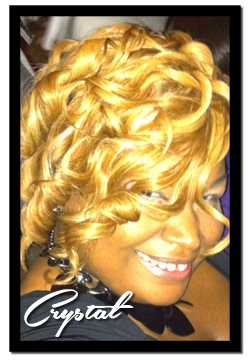 My Hair Couture started in New York by hair stylist Crystal Marshall. After frequently hearing how distressed her clients were with tangling, matting and shedding-not to mention her own complaints with extensions-she began her research. What she discovered was that commercial beauty supply hair undergoes harsh chemical processing for color and texture. Plus, suppliers strip the cuticles, causing the hair become extremely unmanageable.
After many trial and error sessions, Crystal eventually found quality virgin and Remy hair, which her clients could treat as their own.
At first Crystal only sold couture pieces to her own clients but after noticing how well-received her couture hair was, she decided to distribute it to other stylists so they too could use it for their clients. Today, My Hair Couture is based out of Bay Shore, New York, and ships hair all over the world.
Interview with Crystal
What inspired you to become a hair stylist?
It's something I've enjoyed for as long I can remember. I always did my dolls' hair, then my sister's, and so on. Hair has been my passion ever since. It never gets boring to me. There is always something new about it and it keeps me fresh and on my toes. I love that!
What is your philosophy around beauty?
When you look good you feel good. This is so true. I see the transformation take place everyday. A new do can really brighten your spirits. I can attest to that.
What do you love about helping others through this line of work?
To me it's rewarding. I love the smiles I put on my clients' faces. I love giving my customers the feeling that they've made the right purchase and are 100-percent satisfied.
In what ways can you relate to your customers?
I am everything hair and I can relate to the need to look and feel good. It's hard to find a well-rounded hair stylist or even hair company that's passionate about the product or service and not in it just for the money. As a consumer, I too am always looking for the best hair and hair services and in turn want to offer them to my clients.
What do you love about what you do?
I love the stories my clients tell me about how everyone loved their hair. Or when I receive an email from a super excited customer telling me how much they love their hair.
What inspired you to offer virgin hair online?
When I first started My Hair Couture, virgin hair was not as readily available as it is today. I was a victim of horrible hair extensions and knew how frustrating it was. I wanted to share what I learned with others. When I tried virgin and Remy hair, I knew this was something that would change the hair industry. Through word-of-mouth, my business took off and I wanted to create a place where customers could get more information and order. That's when I started MyHairCouture.com.
What are some of your favorite beauty trends, past or present?
I'm currently loving the ombre and have always been a fan of the sexy, glamorous hair of Mae West and Dorothy Dandridge.